Register for the December 15 Webinar on Quantum-Resistant Cryptography for the IoT
2nd webinar in our series – Join us for a technical deep dive of Secure RF's protocol implementations and performance metrics for low-resource devices.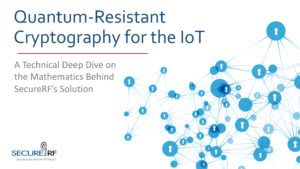 Customer concerns related to IoT security are becoming more prevalent as IoT becomes more mainstream. However, many companies involved in the production of low-resource IoT devices driven by 32-, 16-, and even 8-bit processors are not able to implement contemporary security solutions with acceptable runtime and resource allocation.
Register for our webinar on Thursday, December 15 to hear how SecureRF's asymmetric cryptosystems uniquely provide high-speed security for low-resource IoT devices without overwhelming available memory and power. Based on Infinite Group Theory, the theory of matrices with polynomial entries, and modular arithmetic, SecureRF's cryptosystems will protect IoT devices when quantum computers are expected to become available and render other cryptographic systems obsolete.
You'll learn:
About the construction and abilities of the Ironwood key agreement protocol and WalnutDSA digital signature authentication algorithm
How SecureRF's proprietary E-Multiplication function provides protection against quantum attacks
How SecureRF's cryptosystems reduce hardware requirements and costs
UPDATE: We have made the webinar recording and slides available so you can view them at your convenience.